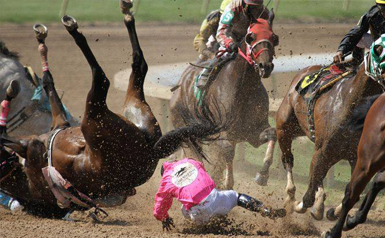 Just two days after the reopening of Southern California's Santa Anita Park racetrack, another racehorse died Sunday, March 31 — bringing the horse death toll to 23 since the start of the season in December 2018.
Dramatic video captured the horrific incident, which occurred after a two-horse spill between horses Arms Runner and La Sardane. While La Sardane didn't appear to sustain any injuries, Arms Runner (a five-year-old gelding) appeared to suffer an injury to his right front leg and was later euthanized.
Following Santa Anita Park's nearly month-long closure, the Stronach Group — owners of the park — announced new regulations would be implemented to limit the use of whips and medication on race days. But the fact still remains that 198 horses have now died at Santa Anita Park racetrack over the past five years.
LCA vehemently calls for the closure of Santa Anita Park racetrack. "No more suffering; no more killings; no more horse racetracks! It's time for them to start closing down just like the dog racing tracks that once swept across the country," says Chris DeRose, President and Founder of LCA.
TAKE ACTION:
Click here to learn more about the brutal horse racing industry.