LCA Blog
Blog for Last Chance for Animals, an international non-profit dedicated to ending animal cruelty and exploitation.
Texas: Your Help Is Urgently Needed To Defeat SB 1884!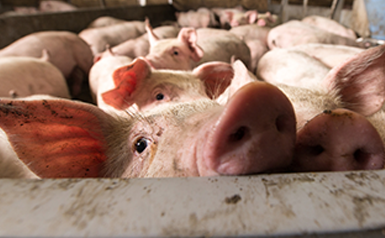 UDPATE: This action is now closed. SB 1884 died on the House floor and did not advance. Thank you to everyone who contacted their legislators in opposition to this bill.
SB 1884 is dangerously progressing! The freedom-crushing ag-gag bill has just passed the Texas House Agriculture & Livestock Committee and is now headed to the House Calendars Committee to determine whether or not the bill should be heard on the House floor. Your help is needed NOW more than ever to DEFEAT this dangerous bill!
If signed into law, SB 1884 — which was introduced by Texas State Sen. Lois Kolkhorst (R) — would make it illegal for undercover investigators to expose animal abuse on factory farms! ACT NOW and help ensure SB 1884 does NOT pass the House Calendars Committee!
TEXAS: TAKE ACTION!
Calls and emails are needed TODAY to stop ag-gag bill SB 1884 from passing the House Calendars Committee! Contact the committee members and urge them to OPPOSE SB 1884! Please find your representative's contact information in the list below.
NOTE: If you've previously taken action on this alert, please do so again! It's now being heard by a different committee! If you do not live in Texas but know someone who does, please urge them to take action!
Rep. Four Price, Chair
Email: This email address is being protected from spambots. You need JavaScript enabled to view it. | Phone: (512) 463-0470
Rep. Joe Moody, Vice Chair
Email: This email address is being protected from spambots. You need JavaScript enabled to view it. | Phone: (512) 463-0728
Rep. Joseph "Joe" Deshotel
Email: This email address is being protected from spambots. You need JavaScript enabled to view it. | Phone: (512) 463-0662
Rep. John Frullo
Email: This email address is being protected from spambots. You need JavaScript enabled to view it. | Phone: (512) 463-0676
Rep. Craig Goldman
Email: This email address is being protected from spambots. You need JavaScript enabled to view it. | Phone: (512) 463-0608
Rep. Oscar Longoria
Email: This email address is being protected from spambots. You need JavaScript enabled to view it. | Phone: (512) 463-0645
Rep. Will Metcalf
Email: This email address is being protected from spambots. You need JavaScript enabled to view it. | Phone: (512) 463-0726
Rep. Tom Oliverson
Email: This email address is being protected from spambots. You need JavaScript enabled to view it. | Phone: (512) 463-0661
Rep. Eddie Rodriguez
Email: This email address is being protected from spambots. You need JavaScript enabled to view it. | Phone: (512) 463-0674
Rep. Toni Rose
Email: This email address is being protected from spambots. You need JavaScript enabled to view it. | Phone: (512) 463-0664
Rep. John Wray
Email: This email address is being protected from spambots. You need JavaScript enabled to view it. | Phone: (512) 463-0516
Thank you for taking action!
Click here to learn more about ag-gag laws.
Stay Informed
When you subscribe to the blog, we will send you an e-mail when there are new updates on the site so you wouldn't miss them.