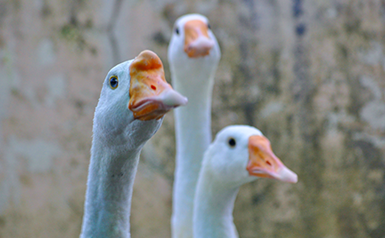 On Wednesday, October 30, 2019, the New York City Council passed a landmark package of measures that will spare countless animals from suffering each year—including Intro 1378A, a bill that bans the sale of cruel force-fed foie gras in NYC.
Foie gras, French for fatty liver, is produced by force-feeding ducks and geese with cornmeal in order to enlarge their livers to ten times their natural size. This force-feeding, known as gavage, results in a number of injuries, including bruising or perforation of the esophagus, hemorrhaging and inflamation of the neck due to the repeated insertion of a pipe down the throat, and asphyxia caused by food improperly being forced down the trachea.
LCA is proud to be part of the coalition—which is led by Voters for Animals Rights—that has worked tirelessly to see this bill passed. Once signed into law by Mayor de Blasio, Intro 1378A will make New York City the largest city in the world to ban foie gras. Violators of the ban will be found guilty of a misdemeanor and face up to $1,000 in fines, plus up to one year in jail.
Chris DeRose Speaks at NYC City Council Hearing on Foie Gras 6/18/19 from Last Chance for Animals on Vimeo.
The coalition is incredibly proud of Council Member Carlina Rivera for championing Intro 1378A through the City Council and of Speaker Corey Johnson for including it in his historic animal package, which also features Intro 1202A (a bill that protects wild birds from poaching), Intro 1425A (the carriage horse heat relief bill), and Intro 1478A (a bill that creates a Mayoral Office of Animal Welfare)—all of which were passed by the council. Thank you to those who testified before the City Council and to those who reached out to their council members in support of the foie gras ban—the coalition couldn't have done it without your help!
Click here to learn more about the NYC Foie Gras coalition.
Photo: Unsplash