LCA Blog
Blog for Last Chance for Animals, an international non-profit dedicated to ending animal cruelty and exploitation.
2,000 Feral Pigs Sentenced to Death!! Act Now to Save Them!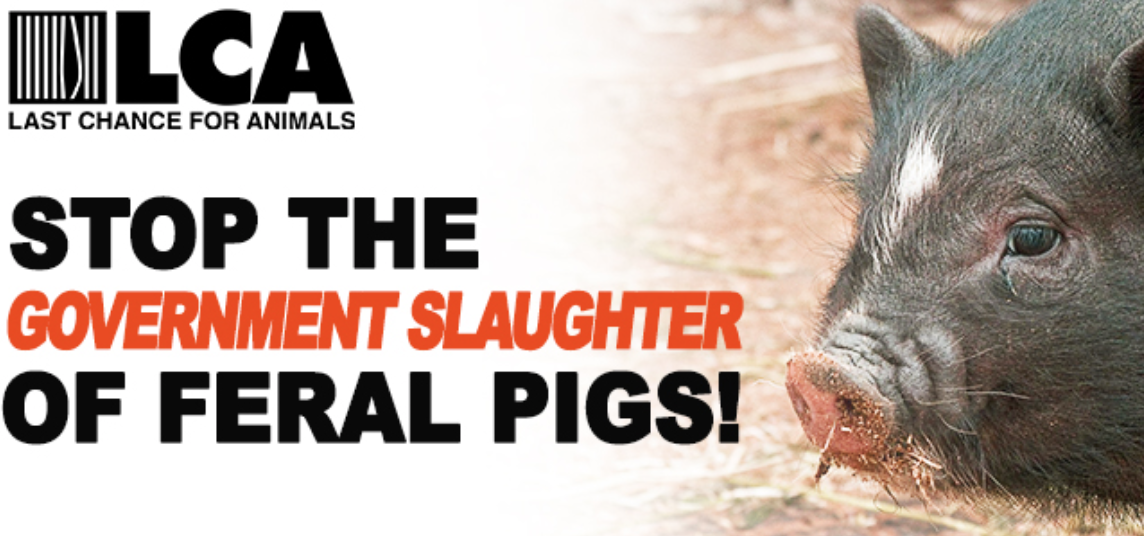 The wild pigs of Ohio's Wayne National Forest are being systematically baited, trapped and shot to death -- all in an unconscionable cull by the USDA Forest Service and the Ohio Department of Natural Resources' Division of Wildlife. Not only are government officials ruthlessly killing the pigs, but they're calling on the public to shoot them, too!
"We encourage folks to opportunistically harvest wild swine when they encounter them when they are in the woods hunting," said Craig Hicks, a USDA employee and Ohio's "feral-swine coordinator."
The killers claim that slaughtering the pigs will protect the environment, because the animals dig mud-holes and eat the plants. But this so-called "invasive" species only lives in Ohio because humans brought pigs over from Europe. Humans are a far greater threat to the environment than feral pigs, and we have no right to simply kill them in an ill-conceived scheme to undo our own mistakes.
To make matters worse, unethical and biased reporting by The Columbus Dispatch shows just one side of the story, using the term "nuisance animals," quoting Hicks saying "Feral swine are an ecological train wreck," and even supplying phone numbers for people to report any wild swine they see. This blatant support of violence to animals is irresponsible, dangerous, and a poor excuse for journalism.
WHAT YOU CAN DO:
1. Send a letter to the editor at The Columbus Dispatch letting them know it's wrong to encourage the killing of animals. Use this form to send your letter: http://www.dispatch.com/content/pages/opinion/send-letter-to-editor.jsp
2. Send a letter to the USDA Forest Service demanding that they use nonviolent alternatives, such as sending the pigs to an animal sanctuary. Contact information:
Mailing address:
USDA Forest Service
1400 Independence Ave., SW
Washington, D.C.
20250-1111
Phone: (800) 832-1355
Email form: http://www.fs.fed.us/about-agency/contact-us
Please act now to save these innocent pigs!
Stay Informed
When you subscribe to the blog, we will send you an e-mail when there are new updates on the site so you wouldn't miss them.