LCA Blog
Blog for Last Chance for Animals, an international non-profit dedicated to ending animal cruelty and exploitation.
California Gov. Jerry Brown Signs Bullhook Ban into Law - Effective January 1, 2018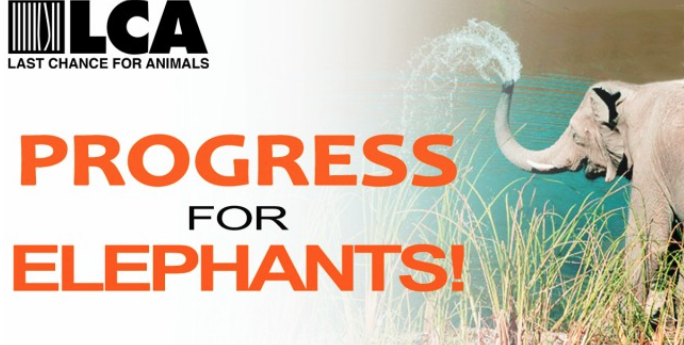 On Monday, August 29, 2016, California Governor Jerry Brown signed into law Senate Bill 1062, banning the use of cruel elephant bullhooks! California is now the second state in the U.S. to outlaw these barbaric devices, following a ban in Rhode Island in July 2016.

As of January 1, 2018, elephants in CA will no longer be beaten into submission with bullhooks (brutal weapons that resemble a fireplace poker). LCA applauds Gov. Brown for passing this important legislation but would like to see the ban go into effect ASAP so the bullhook is not used on elephants for another year and a half.
"Sink that hook into 'em…when you hear that screaming, you know you got their attention!"

LCA's undercover video above, secretly recorded during a Carson & Barnes elephant training session, shows how bullhooks are used to inflict severe pain to coerce elephants into performing demeaning tricks out of fear. The CA bullhook ban is a clear sign of the times -- the public will no longer tolerate such cruelty to elephants.

With the truth about elephant abuse revealed, more and more people are demanding that the animals be removed from circuses, tourist attractions and traveling shows. Changes in public attitude are happening quickly, and lawmakers have no choice but to respond.

Despite this, we still have a long way to go in stopping cruelty to elephants and other animals in circuses, zoos and more. LCA will continue fighting to end the abuse of all animals for human entertainment.

WHAT YOU CAN DO:

1. Sign the petition at NoCircusCruelty.com urging Ringling Bros. to end all animal acts in their circus.

2. Only attend circuses that do not use animals, such as Cirque du Soleil and Circus Vargas.

3. Donate now to help LCA continue fighting animal cruelty.
Stay Informed
When you subscribe to the blog, we will send you an e-mail when there are new updates on the site so you wouldn't miss them.