LCA Blog
Blog for Last Chance for Animals, an international non-profit dedicated to ending animal cruelty and exploitation.
LCA Launches New Virunga PSA Campaign With Animal Activist & Model Kenya Kinski-Jones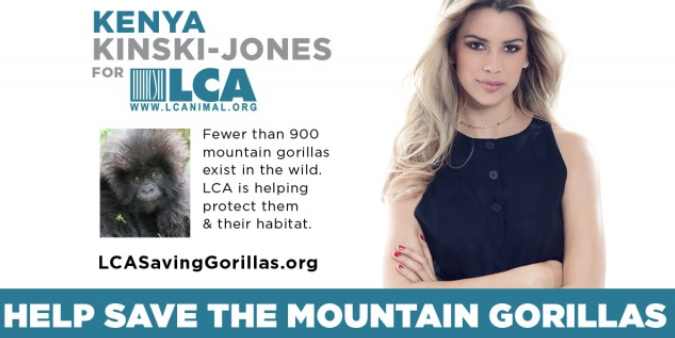 LCA has launched a new PSA campaign with model/actress Kenya Kinski-Jones!
Kenya -- the daughter of music legend Quincy Jones and supermodel/actress Nastassja Kinski -- is helping educate the world about the plight of the mountain gorillas of war-torn Virunga National Park in the Democratic Republic of the Congo (DRC).
Currently a fashion "It Girl," 23 year-old Kinski-Jones is featured in designer Stella McCartney's "POP" fragrance campaign alongside other millennial role models including Madonna's daughter Lourdes "Lola" Leon, actress Amandla Stenberg, and indie pop musician Grimes. Kinski-Jones has also appeared in a fashion campaign for Calvin Klein Jeans and has been featured in virtually every major fashion publication.
Now, Kenya is forging a path as an animal activist to help raise awareness for severely endangered animals that are unable to protect themselves.
With the gorilla population ravaged by political instability and poaching, these majestic animals desperately need our help!
Saving the gorillas is dangerous work. In the past decade alone, 150 Virunga park rangers have been brutally killed by those who want to exploit Virunga's natural resources and let the mountain gorillas go extinct.
LCA is helping the rangers of Virunga by supplying much-needed equipment for their AirWing program, including airplane bush wheels, mobile LED airstrip lighting, and tool chests -- but funds are still needed to cover the costs for these donations and to provide the rangers with more quality equipment. Please donate today to help LCA continue working to save the mountain gorilla!
Stay Informed
When you subscribe to the blog, we will send you an e-mail when there are new updates on the site so you wouldn't miss them.