LCA Blog
Blog for Last Chance for Animals, an international non-profit dedicated to ending animal cruelty and exploitation.
4 Ways Going Vegan Can Help Save the Planet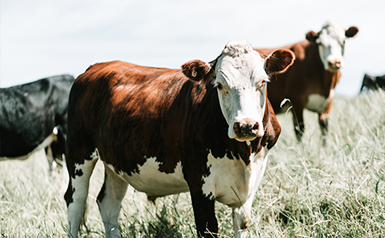 April 22 marks Earth Day — an annual event that raises awareness for environmental issues like pollution and climate change. First celebrated in 1970, Earth Day is now a global celebration that aims to educate the public on ways they can better help protect the planet.
There are numerous ways in which you can help protect the earth — such as by recycling, by reducing the amount of time you drive, and by composting — but did you know going vegan is another phenomenal way you can help save the planet?! In fact, a recent study published in the journal Science found avoiding meat and dairy products is the single biggest way to reduce your environmental impact on the planet! Here's why:
4 Ways Going Vegan Can Save The Earth,
Because There's No Planet B
1. Going vegan helps conserve water
It's no secret that meat production is incredibly water-intensive. According to the U.S. Geological Survey, it takes nearly 2,000 gallons of water just to produce one pound of beef! Similarly, the dairy industry has an incredibly large water footprint due to vast amounts of water needed for cleaning dairy facilities, for feed, and for keeping dairy cows hydrated.
2. Going vegan saves energy
Along with being water-intensive, the animal agriculture industry is responsbile for consuming large amounts of energy. To put this into perspective, it takes about 11 times more fossil fuel to produce one calorie of animal protein than it does to produce one calorie of plant protein.
3. Going vegan reduces pollution
The U.S. Environmental Protection Agency estimates that approximately 80 percent of ammonia (NH3) emissions originate from livestock waste — while chickens, turkeys, pigs, and cows are considered to be the largest producers of methane. Put simply, the livestock industry produces anywhere from 20 to 50 percent of all man-made greenhouse gas emissions. Compared to meats, cheese, and eggs — vegetables, fruits, nuts fall much lower on the carbon footprint spectrum.
4. Going vegan reduces deforestation
Meat production requires large amounts of land for grazing pastures and to grow livestock feed on. An interesting study published in Nature Communications found that the only feasible method of feeding the world with no deforestation was if everyone consumed a plant-based diet. #FoodForThought
Click here to learn more about veganism.
Photo: Unsplash
Stay Informed
When you subscribe to the blog, we will send you an e-mail when there are new updates on the site so you wouldn't miss them.