LCA Blog
Blog for Last Chance for Animals, an international non-profit dedicated to ending animal cruelty and exploitation.
BREAKING: LCA's Investigation Exposes Animal Cruelty at Sheik Halal Farms Slaughterhouse!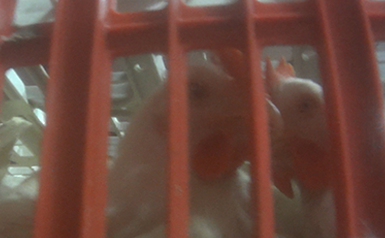 In 2017 and 2018 (over the course of four months), LCA conducted an undercover investigation into Sheik Halal Farms — a slaughterhouse located in Grand Valley, Ontario — exposing incidents of apparent animal cruelty and health-related non-compliance issues at the slaughterhouse.
Warning: the following video contains graphic footage.
The investigation documented chickens being subjected to repeated incidences of undue suffering, avoidable pain, and distress. The findings were submitted in formal complaints to both the Canadian Food Inspection Agency and the Ontario Ministry of Agriculture, Food and Rural Affairs and included the violations of animal welfare and food handling practices.
The complaint further describes other grave non-compliant issues in regard to handling and transportation violations, such as birds being transported in crates caked with fecal matter, urine, and blood that were moved straight onto the meat processing line. LCA's investigator also documented birds with bacterial infections.
LCA has not been advised of any charges at the time of this release.
Click here to learn more about LCA's investigation into Sheik Halal Farms slaughterhouse.
Photo: LCA
Stay Informed
When you subscribe to the blog, we will send you an e-mail when there are new updates on the site so you wouldn't miss them.