LCA Blog
Blog for Last Chance for Animals, an international non-profit dedicated to ending animal cruelty and exploitation.
Texas: Urge Your Legislators to Oppose Freedom-Crushing Ag-Gag Bill!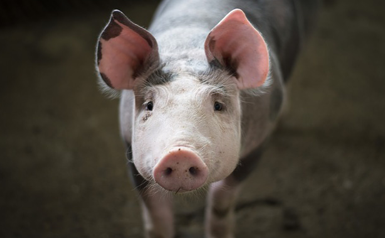 UDPATE: This action is now closed. SB 1884 died on the House floor and did not advance. Thank you to everyone who contacted their legislators in opposition to this bill.
Texas lawmakers are trying to stop whistleblowers from exposing animal cruelty with the introduction of SB 1884 — an ag-gag bill that would criminalize undercover investigations and inhibit investigators from revealing the abuse and neglect animals are subjected to on industrial farms.
If enacted, the ag-gag bill — which was introduced by Texas State Sen. Lois Kolkhorst (R) — would create a criminal offense for "breaking and entering, or possession of records or equipment without consent for animal or crop facilities."
Lawmakers should be working to protect farm animals NOT the animal abusers! Please help ensure SB 1884 does NOT pass the House Agriculture & Livestock Committee!
TEXAS: TAKE ACTION!
Calls and emails are urgently needed to stop ag-gag bill SB 1884 from passing the House Agricutlure & Livestock Committee! Contact the House Committee members and urge them to oppose SB 1884! Please find your representative's contact information in the list below.
NOTE: If you've previously taken action on this alert, please do so again! It's now being heard by a different committee!
Rep. Drew Springer, Chair
Email: This email address is being protected from spambots. You need JavaScript enabled to view it. | Phone: (512) 463-0526
District: 68 – Childress, Collingsworth, Cooke, Cottle, Crosby, Dickens, Fisher, Floyd, Garza, Hall, Hardeman, Haskell, Jack, Kent, King, Montague, Motley, Stonewall, Throckmorton, Wheeler, Wilbarger, Young

Rep. Charles "Doc" Anderson, Vice Chair
Email: This email address is being protected from spambots. You need JavaScript enabled to view it. | Phone: (512) 463-0135
District: 56 – McLennan

Rep. Michelle Beckley
Email: This email address is being protected from spambots. You need JavaScript enabled to view it. | Phone: (512) 463-0478
District: 65 – Denton

Rep. Brad Buckley
Email: This email address is being protected from spambots. You need JavaScript enabled to view it. | Phone: (512) 463-0684
District: 54 – Bell, Lampasas

Rep. DeWayne Burns
Email: This email address is being protected from spambots. You need JavaScript enabled to view it. | Phone: (512) 463-0538
District: 58 – Bosque, Johnson

Rep. Art Fierro
Email: This email address is being protected from spambots. You need JavaScript enabled to view it. | Phone: (512) 463-0596
District: 79 – El Paso

Rep. Thresa "Terry" Meza
Email: This email address is being protected from spambots. You need JavaScript enabled to view it. | Phone: (512) 463-0641
District: 105 - Dallas

Rep. Richard Pena Raymond
Email: This email address is being protected from spambots. You need JavaScript enabled to view it. | Phone: (512) 463-0558
District: 42 - Webb

Rep. Erin Zwiener
Email: This email address is being protected from spambots. You need JavaScript enabled to view it. | Phone: (512) 463-0647
District: 45 – Blanco, Hays


Thank you for taking action to defeat SB 1884!

Click here to learn more about ag-gag laws.
Photo: Pixabay
Stay Informed
When you subscribe to the blog, we will send you an e-mail when there are new updates on the site so you wouldn't miss them.