LCA Blog
Blog for Last Chance for Animals, an international non-profit dedicated to ending animal cruelty and exploitation.
LCA Files Complaint Against Marineland Canada for Displaying Cetaceans After Passage of Canadian Bill S-203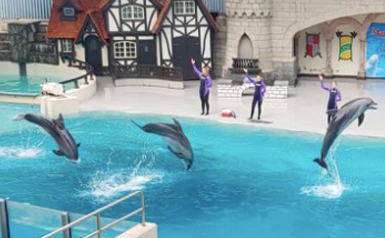 LCA has filed a complaint with the Ontario Ministry of the Solicitor General against Marineland Canada based on performances of cetaceans (i.e., whale, dolphin, or porpoise).
The complaint was filed after the passage of Bill S-203 received Royal Assent on June 21, 2019, which led to the creation of new animal cruelty provisions in the Criminal Code of Canada. These provisions impose restrictions on keeping whales, dolphins and other cetaceans in captivity. These sections allow organizatinos that had cetaceans before the bill came into effect to keep the cetaceans but impose restrictions on their handling. The new animal cruelty provisions at section 445.2(4) of the Criminal code set out that:
(4) Every person commits an offence who promotes, arranges, conducts, assists in, receives money for or takes part in any meeting, competition, exhibition, pastime, practice, display or event at or in the course of which captive cetaceans are used, in Canada, for performance for entertainment purposes, unless the performance is authorized under a license issued by the Lieutenant Governor in Council of a province or by an authorized authority.
LCA attended, observed, and took video recordings at the dolphin show at Marineland on August 6, 2019. The show took place in a stadium in front of an audience. Marineland sold tickets to patrons to allow them access to the park and to watch the dolphin show. Dolphins are seen numerous times throughout the show performing tricks in front of an audience. LCA followed up with the Lieutenant Governor in Council's office, the Attorney General's office and the Solicitor General's office with an aim to determining whether Marineland has been issued a special permit for these performances, but have been unable to confirm.
At the same time of LCA's attendance, tickets were also available for purchase for encounters with Beluga whales. LCA witnessed at the Beluga whale encounter that patrons were permitted to pet and touch Beluga whales.
Mystic Aquarium Connecticut application (84 FR 52072) to import five beluga whales from Marineland Canada is pending
Mystic Aquarium in Connecticut filed a permit application to import five Beluga whales from Marineland Canada for scientific research. Under the US Marine Mammal Protection Act (MMPA) and the Canadian Wild Animal and Plant Protection and Regulation of International and Interprovincial Trade Act, the laws do not allow for this importation. The five Beluga whales proposed for import descend from the depleted Sakhallin Bay-Nikolaya Bay-Amur River population in the Russian Federation. The MMPA clearly states there should be no public display of marine mammals from depleted populations. Otherwise, the relevent MMPA exemption for importing depleted marine mammals for scientific research would be a massive loophole to get animals for public display and breeding. The June 2019 passage of Canadian Bill S-203 made displaying cetaceans for entertainment purposes illegal and placed restrictions on importing, exporting, and breeding.
LCA is calling on the Ontario Ministry of the Solicitor General to investigate LCA's complaint against Marineland Canada. Politicians, law makers, concerned citizens, and numerous animal organizations of Canada and the United States have fought long and hard to get protections for cetaceans.
As evidenced by this letter written by the Animal Welfare Institute to the National Marine Fisheries Service, many people and organizations also take issue with the proposed export of the Beluga whales.
LCA is urging the National Marine Fisheries Services (NMFS) to deny the permit application by Mystic Aquarium Connecticut to import five Beluga whales from Marineland Canada for scientific research. The NMFS is currently reviewing 9,532 public comments on the application that were submitted by midnight deadline on Dec 2, 2019. In addition, LCA is calling on the Minister of Environment and Climate Change, the Honourable Jonathan Wilkinson to deny the export permit.
Urgent: Stop Marineland from exporting Beluga whales to the U.S.
Click here to learn more about LCA's investigation into Marineland Canada.
Photo: LCA
Stay Informed
When you subscribe to the blog, we will send you an e-mail when there are new updates on the site so you wouldn't miss them.