LCA Blog
Blog for Last Chance for Animals, an international non-profit dedicated to ending animal cruelty and exploitation.
BREAKING: LCA's Investigation Exposes Animal Suffering at Escarpment's Edge Dairy Farm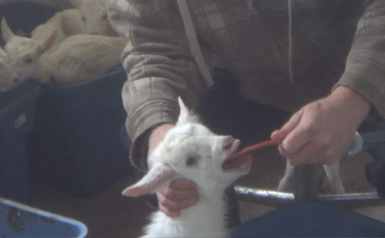 LCA has released the results of an undercover investigation into the practices at Escarpment's Edge Dairy (EED), a goat farm in Caledon, Ontario.
LCA's investigator witnessed goats being dragged and pulled by their legs, goats crawling on their knees with overgrown hooves, and goats with lesions and infections.
Due to concerns about the care and wellbeing of the animals at EED, LCA filed complaints with the Ontario Society for the Prevention of Cruelty to Animals (OSPCA), the Ontario Ministry of Agriculture, Farm and Rural Affairs (OMAFRA), and the Ontario Provincial Police (OPP).
Due to lack of funding and government support, the OSPCA announced that after 100 years they would no longer investigate livestock complaints after June 2019 and forwarded the complaint to the Ontario Provincial Police. The Ontario Provincial Police and OMAFRA inspected EED multiple times as a result of LCA's complaint.
At the time of this release, no charges have been laid against EED.
What You Can Do:
1. Urge the Government of Ontario to act and form a qualified organization to enforce animal protection laws in Ontario immediately.
Contact: Doug Ford, Premier of Ontario
Email: This email address is being protected from spambots. You need JavaScript enabled to view it.
2. Contact Gay Lea Foods and pressure them to stand by their commitment to promoting high standards of animal welfare and ask them not to do business with EED.
Contact: Head Office Gay Lea Foods
Phone: 1-800-268-0508
3. Boycott products sold under the Gay Lea brand name: Ivanhoe, Salerno, Hewitt's, Black River, Lacteeze, Nordica, Franco's, Longlife, Churn 84, Gos and Gris
Click here to learn more about LCA's investigation into Escarpment's Edge Dairy.
Photo: LCA
Stay Informed
When you subscribe to the blog, we will send you an e-mail when there are new updates on the site so you wouldn't miss them.