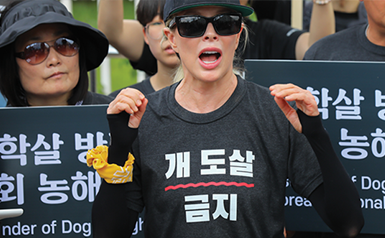 In addition to being an international screen icon, having appeared in more than forty feature films, Kim Basinger is an avid animal rights supporter and has been a leading figure in LCA's anti-dog meat campaign in Asia.
In 2015, Basinger appeared in and narrated LCA's PSA exposing the horrific cruelty at two dog meat slaughterhouses in Northern China, and in 2018, Basinger led LCA's Los Angeles demonstration against S. Korea's dog meat trade.
Most recently, in July 2019, Basinger joined LCA at a joint press conference with S. Korean Member of Parliament Pyo Chang-won in Seoul, S. Korea ahead of the 2019 Boknal protest—which Basinger also led—to demand the Korean government pass MP Chang-won's proposed amendment to the Animal Protection Act. If passed, the amendment would outlaw the slaughter of dogs and cats for meat in S. Korea.
During LCA's 2019 Boknal demonstration, Basinger gave a moving speech, stating: "No more dog meat trade. They do not need your tears; they need your help."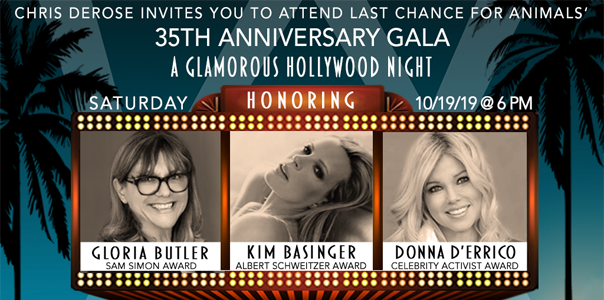 On Saturday, October 19, 2019, LCA will honor Kim Basinger with the Albert Schweitzer Award for her work in making the world a better place for animals.
Enjoy a star-studded reception with delicious vegan hor d'oeuvres and cocktails, followed by live entertainment and a gourmet vegan dinner as LCA celebrates 35 years of animal advocacy! The gala's special award show will also honor prominent animal rights supporters Gloria Butler and Donna D'Errico for their work in helping animals.
We hope you'll join us!
Have you purchased your gala ticket?
Click here to purchase an individual ticket or sponsor table.