LCA Blog
Blog for Last Chance for Animals, an international non-profit dedicated to ending animal cruelty and exploitation.
LCA's Bull Riding Protest at the Staples Center in Los Angeles Was a Success!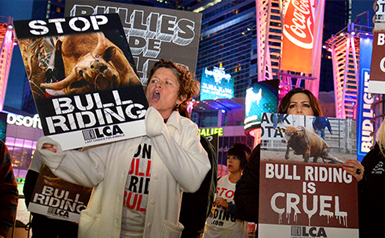 On Saturday, February 23, 2019, LCA held a demonstration at the Staples Center in Los Angeles to protest the Professional Bull Riders' (PBR) Unleash the Beast Tour showcasing its exhibition of animal cruelty for their "Iron Cowboy" bull riding competition.
The demonstration drew a large crowd of passionate animal advocates to protest the abhorrent cruelty of bull riding — a "sport" that abuses animals for profit. Bulls, which are generally tame creatures that must be provoked into battle, are routinely fitted with tight, painful flank straps, shocked with 5,000-volt electric prods, and kicked with spurs in order to encourage aggressive behavior. As the bulls buck wildly to rid themselves of the rider and these tools of torment, their weight couples with their unnatural movement often leads to horrific injuries and even death.
SIGN THE PETITION URGING LA CITY COUNCIL TO BAN RODEOS & RODEO-TYPE ACTIVITIES IN THE CITY OF LOS ANGELES!
LCA would like to thank actress Donna D'Errico and the coalition of animal rights organizations and activists who helped make LCA's bull riding protest such a huge success!
To learn more about rodeos and rodeo-type activities please visit: www.StopBullRiding.com
Photo: LCA
Stay Informed
When you subscribe to the blog, we will send you an e-mail when there are new updates on the site so you wouldn't miss them.