LCA Blog
Blog for Last Chance for Animals, an international non-profit dedicated to ending animal cruelty and exploitation.
LCA and ALW Launch "Stop the Villain Truck" Campaign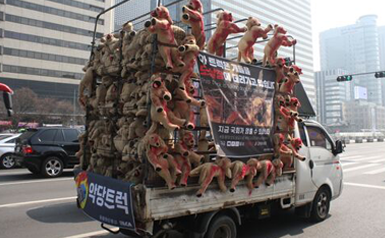 LCA and S. Korean sister organization Animal Liberation Wave (ALW) launched the "Stop the Villain Truck" campaign today in Gwanghwamun Square in Seoul, S. Korea's capital city, to raise awareness for the barbaric slaughter of dogs in S. Korea's dog meat trade ahead of the upcoming session of the country's National Assembly.
From today, February 21, 2019, through Tuesday, February 26th, LCA and ALW will drive the "villain truck" — a truck filled with fake stuffed dogs to resemble the real trucks used to transport dogs to their death — around the streets of Seoul to educate the public about the gruesome and egregious treatment of dogs in the dog meat trade and to call on the National Assembly to pass MP Pyo Chang-won's proposed amendment to the Animal Protection Act, which was originally introduced on June 20, 2018 and, if passed, would outlaw the slaughter of dogs for meat in S. Korea.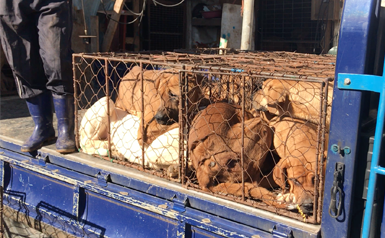 In order to transport them to slaughterhouses, dogs are routinely crammed into small wire cages and often suffer heat exhaustion and even broken limbs as a result. Due to the horrific conditions dogs experience on the transport trucks, many do not make the long, painful journey and die before they reach the slaughterhouse. Those that do make it to slaughter are typically killed by being hung, electrocuted, beaten to death, or by being boiled alive.
Help end the barbaric dog meat trade! Sign the petition to S. Korean Head of Agriculture, Food, Rural Affairs, Oceans & Fisheries Committee MP Hwang Ju-hong and demand an end to the brutal slaughter of dogs!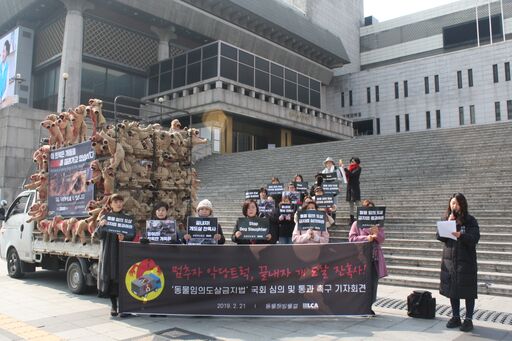 Click here to learn more about the dog meat trade and to sign the petition.
Photo: LCA/ALW
Stay Informed
When you subscribe to the blog, we will send you an e-mail when there are new updates on the site so you wouldn't miss them.