LCA Blog
Blog for Last Chance for Animals, an international non-profit dedicated to ending animal cruelty and exploitation.
LCA, Kim Basinger, + Animal Liberation Wave Protest Boknal in Seoul, S. Korea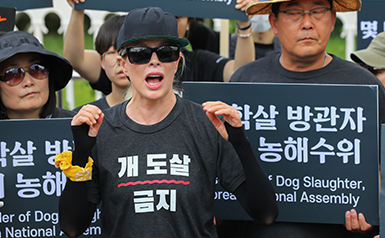 On Friday, July 12, 2019, LCA and S. Korean sister organization Animal Liberation Wave (ALW) gathered in front of the National Assembly in Seoul, S. Korea to protest the start of Boknal—three nonconsecutive days known for being extremely hot when the consumption of dog meat soup (known as "Boshingtang") rises to combat the extreme heat and humidity.
Joined by legendary actress and animal rights activist Kim Basinger, countless supporters partook in a silent memorial and held replicas of deceased dogs to symbolize all the dogs that have been slaughtered in the dog meat trade.
---
Currently, one out of five S. Koreans have dogs as companion animals. The Korean public's perception of dogs is changing and they are increasingly being considered part of the family. In light of the growing consensus against dog meat, S. Korean Congressman Pyo Chang-won proposed an amendment to the country's Animal Protection Act that, if passed, would outlaw the slaughter of dogs and cats for meat. Unfortunately, the bill was never tabled for legal assessment and is currently stalled in the Agriculture, Food, Rural Affairs, Oceans & Fisheries Committee.
Congressman Pyo told CNN: "Many of the congressmen are based in rural areas where dog farms exist and they are under pressure not to talk about the bill, not to support the bill, not to allow the bill coming on the table."
During the protest, demonstrators urged the Korean government to pass MP Pyo Chang-won's amendment. LCA, ALW, and Basinger also met with several lawmakers and local governors to advocate for the passage of this bill. "I do think that government is going to have to not turn a blind eye and really come up with solutions like [MP Pyo's amendment]," said Basinger. "South Korea is going to be the leader for this, it's going to be known for this and it's going to trickle down." She later added: "[The dogs] do not need your tears; they need your help."

Help stop dog meat:
Sign the petition at StopDogMeat.com urging the S. Korean government to pass MP Pyo Chang-won's proposed amendment to the Animal Protection Act. If passed, MP Pyo's amendment will be a major blow to the country's barbaric dog meat trade.
Spread the word on social media by using the hashtags: #ThisCouldBeYourDog #StopDogMeat #FriendsNotFood
Make a donation today to help LCA continue the fight against dog meat.
Click here to learn more about LCA's 2019 Boknal protest.
Photo: LCA/ALW
Stay Informed
When you subscribe to the blog, we will send you an e-mail when there are new updates on the site so you wouldn't miss them.