LCA Blog
Blog for Last Chance for Animals, an international non-profit dedicated to ending animal cruelty and exploitation.
Take Action for Six Horses Killed at Calgary Stampede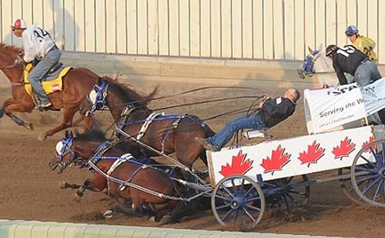 On July 14, 2019, three horses were euthanized after sustaining serious injuries during the final night of chuckwagon races at the Calgary Stampede's Rangeland Derby. In total, six horses have been killed—making this year's 10-day event the deadliest in almost a decade.
LCA vehemently condemns all rodeos, and with the latest incidewnts at the Calgary Stampede resulting in the deaths of six horses, is calling for an end to this barbaric "sport".
Take action for the six horses killed at the Calgary Stampede:
1. Sign the petition urging the City of Calgary to ban rodeos and rodeo-type activities like the archaic Calgary Stampede! Click here to sign the petition.
2. If you live in Canada, urge your legislators to ban rodeos and rodeo-type activities in the City of Calgary. Click here to locate your MPs and Cabinet members.
3. Countless companies and organizations sponsor the Calgary Stampede. Click here for the full list of Calgary Stampede sponsors and urge them to not support animal cruelty by not sponsoring the Calgary Stampede!
Click here to learn more about rodeo cruelty.
Stay Informed
When you subscribe to the blog, we will send you an e-mail when there are new updates on the site so you wouldn't miss them.