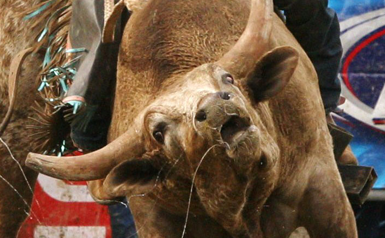 On September 21 and 22, the Professional Bull Riders (PBR) will bring their exhibition of animal cruelty to George Mason University's (GMU) EagleBank Arena.
Bulls are generally calm creatures that must be provoked into battle. In order to encourage aggressive bucking, they are routinely fitted with tight, painful flank straps, kicked with spurs, and shocked with 5,000-volt electric prods. As the bulls buck wildly to rid themselves of the rider and these tools of torment, their weight coupled with their unnatural movements often leads to horrific injuries like broken limbs, sprains, pulled muscles, and torn ligaments. Bulls that are injured do not typically receive veterinary care and are killed instead.
Please let George Mason University know animals are NOT entertainment!
Sign and share the petition urging GMU to cancel this cruel event. Click here to sign the petition. (Started by animal advocate and GMU student Rachael Nicoletta.)
Email President Anne Holten of GMU and urge her to cancel PBR's event. Her email address is

This email address is being protected from spambots. You need JavaScript enabled to view it.
Contact radio station 94.7 to express your disapproval of their advertisements of the Professional Bull Riders. Phone: 202-545-7864 | Email:

This email address is being protected from spambots. You need JavaScript enabled to view it.
Click here to learn more about bull riding cruelty.