LCA Blog
Blog for Last Chance for Animals, an international non-profit dedicated to ending animal cruelty and exploitation.
Have a Cruelty Free Thanksgiving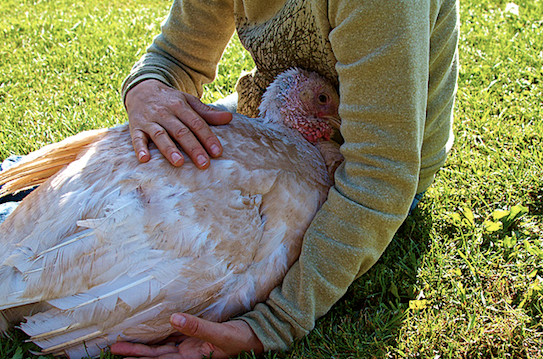 Thanksgiving is a joyful occasion filled with gratitude, celebration, and family. Unfortunately, it is also a sorrowful time for animal lovers who are aware that over 40 million turkeys are killed in the weeks leading up to this holiday. Let this year's Thanksgiving be a celebration of life, rather than the reason someone's life is taken away. There are so many reasons to leave turkeys off the table, and countless delectable dishes that require no animals to be harmed.
Meet Beatrice (pictured left), a rescued turkey who was raised on a commercial farm and spared from slaughter after being purchased and given as a gift. Thankfully, Beatrice is now living happily at a sanctuary where she receives boundless love and freedom from harm. Like dogs and cats, Beatrice is highly social and affectionate. She loves to play, bask in the sunshine, and purrs contentedly when she is pet.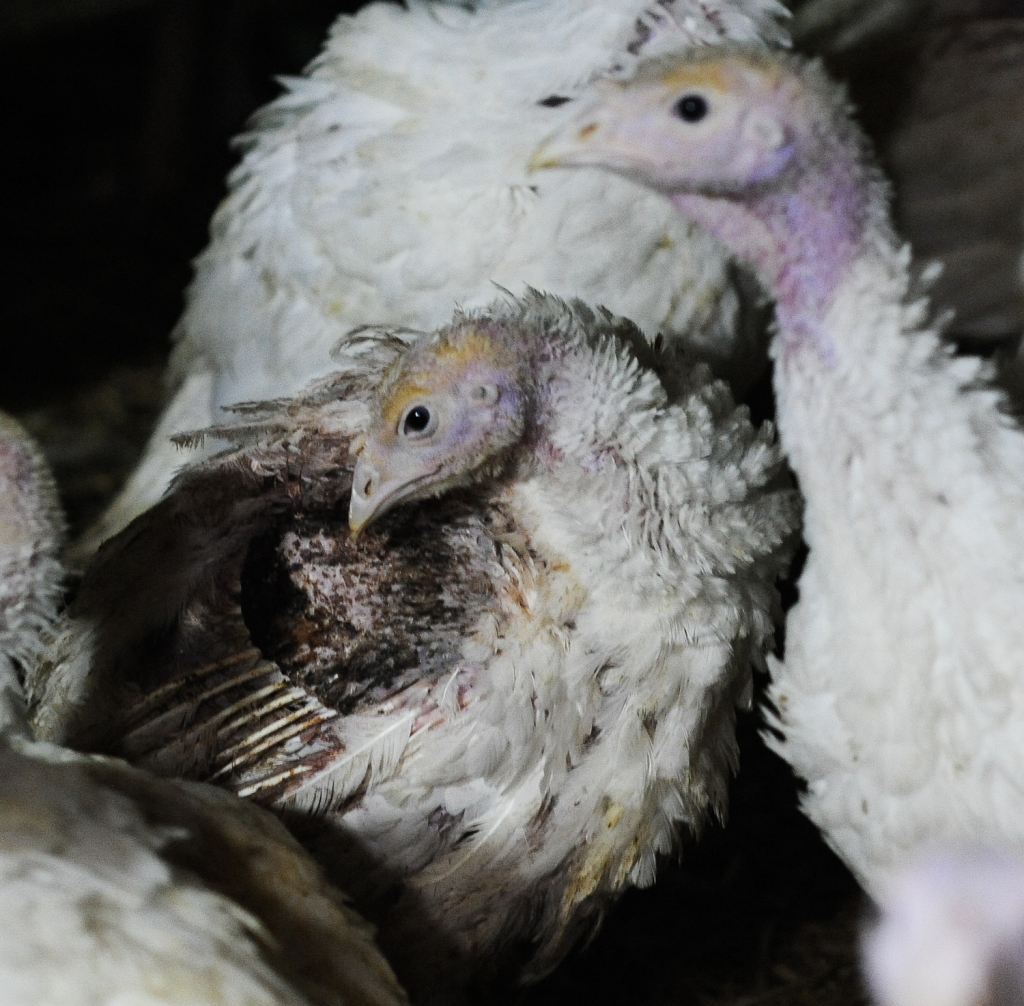 Sadly, most turkeys are not so lucky. Turkeys like Beatrice are subjected to unfathomable cruelty, including intensive confinement and mutilation without anesthetic. Raising turkeys for food requires breaking their incredibly close familial bonds. After hatching, baby turkeys look around desperately for a mother they will never meet. At a few weeks old, they are crammed into filthy, windowless sheds where they will spend the entirety of their lives unable to move comfortably or spread their wings. As a result of stress-induced pecking, farmers commonly slice off the ends of their sensitive, nerve-filled beaks. Genetically altered to grow unnaturally fast, many turkeys die of organ failure before even making it to slaughter. Following a terrifying transport to the slaughterhouse, turkeys are violently killed at less than 6 months old. Naturally, they can live to age 10. Even on "free-range", "humane" farms, turkeys will face the same painful and untimely death.
Like all birds, turkeys are exempt from the Humane Slaughter Act. Not only are most turkeys fully conscious when their throats are slit, due to fast-moving slaughter lines many live birds are also submerged in the feather-removing scalding tank and boiled alive. Clearly, this Thanksgiving tradition is cruel and unnecessary. A moment of palate pleasure is not worth the suffering and death of a conscious, intelligent creature who had a strong desire to live.
Luckily, leaving turkeys off of your Thanksgiving menu does not require sacrificing a delicious Thanksgiving meal. You will be amazed at how easy it is to create nutritious, animal-free versions of your favorite dishes! When you make a vegan feast, the only thing you give up is cruelty. Find our favorite Thanksgiving recipes and turkey-alternatives below! What are your favorite cruelty-free dishes to make during the holidays?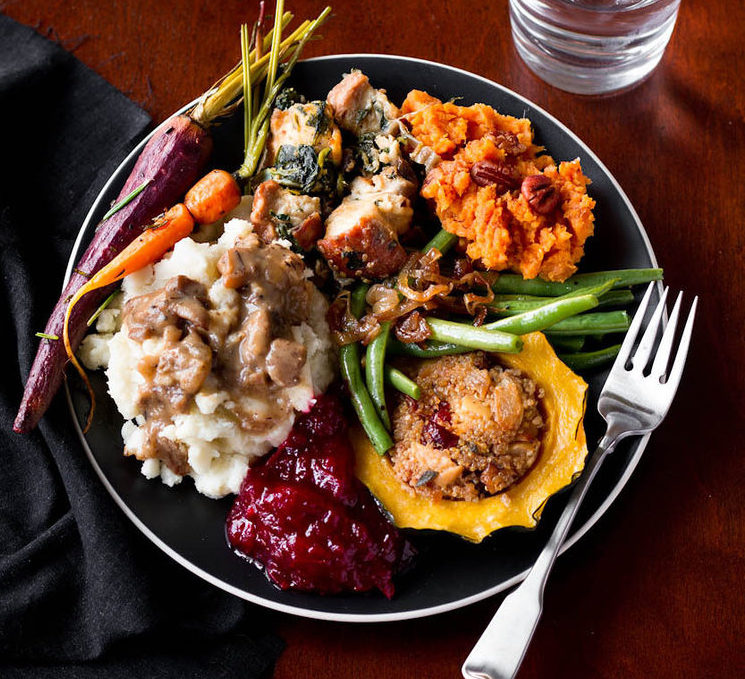 Turkey/Main Dishes
Gardein Roast, Field Roast,Trader Joe's Roast, Chickpea Cutlets, Lentil Walnut Loaf
Side Dishes
Stuffing, Cornbread Stuffing, Creamiest Mashed Potatoes, Simple Mashed Potatoes, Maple Glazed Sweet Potatoes, Sweet Potato Casserole, Green Bean Casserole, Gravy, Mushroom Gravy
Desserts
Pumpkin Pie, Pumpkin Pie Squares, Pecan Pie, Pumpkin Rolls, Apple Crumble Bars, Dairy-Free Whipped Cream
Photo 1: Woodstock Sanctuary
Photo 2: Jo-Anne McArthur
Stay Informed
When you subscribe to the blog, we will send you an e-mail when there are new updates on the site so you wouldn't miss them.