LCA Blog
Blog for Last Chance for Animals, an international non-profit dedicated to ending animal cruelty and exploitation.
Breaking News: Hawaii Set to Ban the Sale of Fur!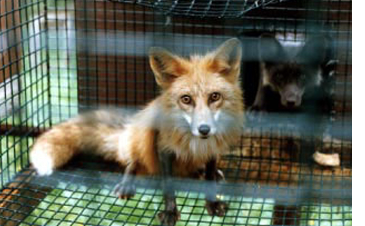 On Thursday, January 24th, Hawaii State Senator Gabbard announced legislation had been introduced that, if passed, would effectively ban the manufacture and sale of fur products in Hawaii.
The bill, "A Bill For An Act Relating To Animal Fur Products," would also prohibit the shipment or transport of "certain fur products" in the state for the purpose of selling or distributing them.
Each year, more than one billion rabbits and 50 million other animals, including foxes, seals, mink, and raccoon dogs, are raised on fur farms only to be violently killed for their fur. The vast majority of fur-bearing animals raised on these farms are kept in deplorable conditions and confined to tight cages, often resulting in self-mutilation, cannibalism, and high stress levels among the animals. Worldwide, there are also approximately ten million wild animals trapped and killed exclusively for their fur each year.
Recently, luxury designers like Chanel, Versace, Gucci, and Burberry have denounced the fur industry's barbaric practices and pledged to eliminate fur from their products. There has also been an increase in anti-fur legislation as more and more cities (such as San Francisco and Los Angeles) and countries have enacted fur bans.
The legislature asserts "eliminating the sale of fur products in Hawaii will foster a more humane environment in the state."
In December 2018, California introduced a similar statewide fur ban and its first policy committe hearing is scheduled for this spring.
Stay Informed
When you subscribe to the blog, we will send you an e-mail when there are new updates on the site so you wouldn't miss them.