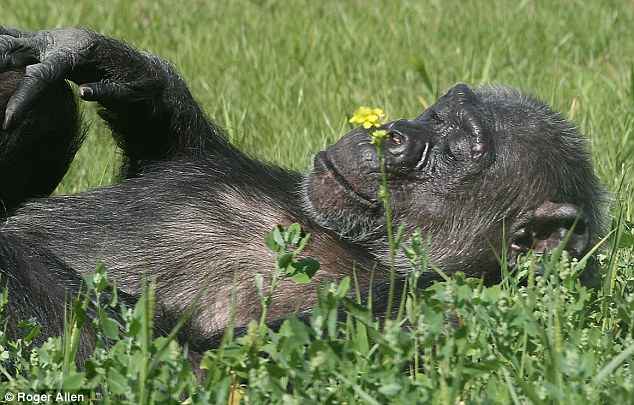 For decades, animal advocates have worked tirelessly to expose the plight of animals used in research. LCA has been heavily involved in this work since 1984, conducting undercover investigations and international campaigns that have swelled the tide of public concern about the exploitation of primates in laboratories. While the journey toward justice for lab animals may seem excruciatingly slow-moving at times, changes are indeed occurring.
Earlier this month, fifteen chimpanzees who had only known a life inside the cold metal cages of a biomedical research laboratory, were released to a Georgia primate sanctuary. In a heartwarming video of the release, the chimps look around in awe as they experience the outdoors for the first time. In further fantastic news, twenty squirrel monkeys will soon be freed from a Food and Drug Administration (FDA) nicotine study. The nearly 4 year-long study was shut down following the actions of Jane Goodall and animal rights organizations urging the agency to conduct an investigation into the researchers' treatment of squirrel monkeys.
The termination of this nicotine study is indicative of a growing concern from authoritative bodies about primate victims of animal research. The research industry has spent decades defending the use of primates in research, so the release of these animals—and the acknowledgement of this study being unnecessary and inhumane—represents meaningful progress for lab animals. On January 26th, FDA Commissioner Scott Gottlieb stated, "I have directed an independent, third-party investigation of the agency's animal research programs. This investigation will help us identify ways to address any remaining or future issues for the entire animal program…Additionally, we are working to reaffirm and strengthen our commitment to replacing, reducing, and/or refining animal studies."
The FDA study, which addicted monkeys to nicotine and resulted in four deaths, employed standard cruel practices, pervasive in the animal research industry. There are thousands of similar studies utilizing primates that are covertly conducted in the U.S. and overseas. LCA recently investigated ITR Laboratories in Canada where we discovered similar welfare issues with regard to macaque monkeys enduring extremely painful, distressing and wholly unnecessary studies. Research funded by U.S. federal agencies is frequently conducted at ITR, and the increasing animal welfare concern from governmental agencies generates tremendous hope for the primates who remain at this laboratory and countless other facilities.
It is vital that we use this momentum to expedite further progress for primates—and all other animals—who remain imprisoned by the animal research industry.
WHAT YOU CAN DO
LCA's most recent investigation at ITR laboratories revealed macaque monkeys being subjected to gratuitous and illegal abuse. The National Institute of Health (NIH) uses American tax dollars to fund horrific animal tests worldwide. Contact the NIH

This email address is being protected from spambots. You need JavaScript enabled to view it.

and urge them to remove ITR from the list of Foreign Institutions with a PHS Approved Animal Welfare Assurance.
To whom it may concern,
Last Chance for Animals (LCA) recently released new footage from a 2016 investigation at ITR Laboratories Canada, Ltd., a PHS-approved animal research institution. LCA's footage reveals systematic abuse and repeated violations of provincial animal protection laws and animal testing guidelines. You can find more info on the findings at LCAnimal.org/ITR. Please look into this matter so NIH-funded experiments can no longer be conducted at a facility that has been documented abusing animals.
Sincerely,
(Your name)
Contact your representative to request that they support the PUPPERS Act, which will prohibit the Department of Veterans Affairs from carrying out painful research on dogs.