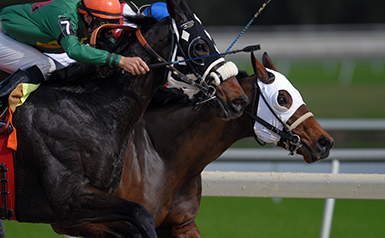 Following the 21st horse death at Santa Anita Park race track in Southern California, the park closed its track on Tuesday, March 5 and suspended future racing indefinitely in order for experts to conduct "additional extensive testing" of the track's soil.
In total, an alleged 23 horses have died since the start of the meet on December 26, 2018 — two of which park officials have not included in the total death toll due to them being considered "non-racing" deaths.
Speculations were made as to whether recent heavy rainfall played a factor in the surge in horse deaths, and on Monday, February 25, the park was temporarily closed for two days following the death of three-year-old gelding "Charmer John," undergoing extensive soil testing to determine whether or not the dirt was to blame. Santa Anita Park officials declared the track ready for reopening on Wednesday, February 27 and racing resumed — resulting in the tragic death of four-year-old filly "Eskenforadrink" the following Saturday.
On Sunday, March 3, demonstrators converged at the racetrack to protest the cruel and unnecessary horse deaths and called on park officials to close down the track.
Local activists are set to reconvene at the park on Sunday, March 10 for a "Rally to Support the Closure of Santa Anita Racetrack." (CLICK HERE for full event details — organized by Heather Anahita and Amanda Lunn.)
Photo: Unsplash