LCA Blog
Blog for Last Chance for Animals, an international non-profit dedicated to ending animal cruelty and exploitation.
The Ugly Truth about Marineland of Niagara Falls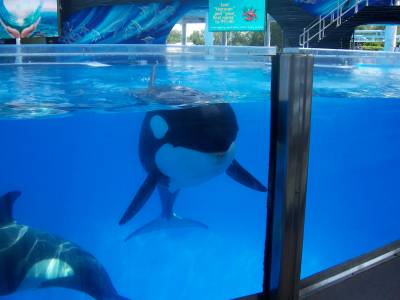 Once a vibrant sea creature with an infectious personality, Larry the Harbour Seal now sits nearly lifeless in his cage with red, swollen eyes. Housed at Niagara Falls' Marineland's Marine Park, Larry is now blind after repeated neglect and exposure to terrible living conditions that include filthy pool water and poorly maintained cages. Staff and visitors alike are in an uproar.
And Larry isn't alone. Some eight different Marineland employees have been complaining for several years about the harmful living conditions of the majestic animals suffering within the gates of Marineland. Top Trainer Phil Demers recently quit after 12 years as chief caregiver to the beloved Swooshi the Walrus over his concerns about the park's management and cleanliness policies. Demers and others complain of both staffing shortages and poorly trained employees as contributing factors to the diminishing health conditions in Marineland.
John Holer, owner of Marineland for some 51 years, denies any wrongdoing. When asked to respond to allegations of misconduct, Holes simply states, "All our facilities are legal." But Canadian regulations for sea mammal captivity are all but non-existent. According to many of the park's employees, the question of legality is not the issue. Marineland has a moral obligation to these animals.
In October of 2011, five dolphins named Tsu, Lida, Sonar, Echo, and Marina were forced to swim in a cramped concrete pool filled with murky, green water for months on end. Former staffers talk of the dolphins either laying at the bottom of the pool or thrashing about wildly in reaction to the infested water. Over the next eight months, their coloring began to change, their appetites decreased, and massive chunks of their skin began to peel off into the water. The water in their concrete pool was finally changed in May of 2012.
On May 28, a baby beluga named Skoot died in the park after a continuous two-hour assault by two adult male belugas. The entire event was witnessed by a single helpless tour guide. She immediately alerted two trainers who were away from the property at the time. During the two hours that it took for the trainers to arrive to help, Skoot's head and body were badly bitten by the older belugas who then spun her round by the tail before smashing her into an adjacent rock wall where she lay lifeless. When the trainers finally arrived to intervene, Skoot began to convulse and immediately died in their arms.
Sea lions Sandy and Baker are also going blind. In 2011, they had to be pulled from the water completely and placed into dry cages to prevent further damage occurring to their eyesight. Baker completely lost the lens in his left eye, and Sandy is often seen sitting in a corner of the cage still and statue-like. A video even exists of them writhing in pain, racing to place their tiny heads into a nearby bucket of pure, clean water.
Many trainers and employees feel that they can no longer stand by and watch these poor creatures suffer. Many feel as if their inability to help affect positive change to the living conditions in Marineland is only enabling the situation to further escalate out of control. As a result, employees like Phil Demers have chosen to leave the facility altogether where they will be free to shine a brighter spotlight on the neglect and abuse going on inside the park. Conditions are slowly improving, but there is still a very long way to go.
Stay Informed
When you subscribe to the blog, we will send you an e-mail when there are new updates on the site so you wouldn't miss them.