Your help fighting the dog meat trade in S. Korea is making a difference! On Saturday, October 26, 2019, Mayor Park Won-soon officially declared all dog meat slaughterhouses would be closed in Seoul, S.Korea on October 31, 2019.
LCA's S. Korean sister organization Animal Liberation Wave (ALW) and a coalition of other animal protection groups and activists celebrated the announcement at an event in Seoul's Namsan Park.
In a statement released before the event, Mayor Park said: "Through persuasion for many years, we stopped all slaughter in Seoul....We will maintain the city as a slaughter-free place to promote the dignity of animal coexistence. If Seoul slaughter activity occurs again, we will use all means to block it."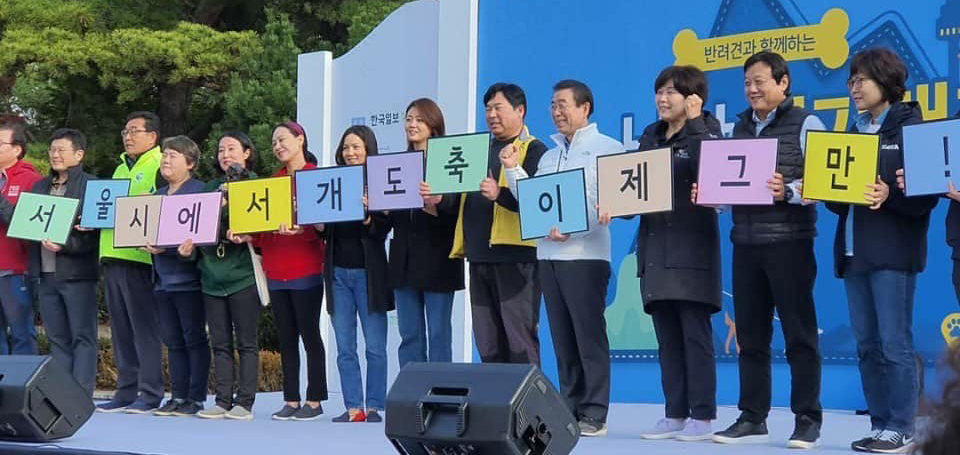 Activists holding signs spelling out "No dog slaughter in Seoul!"
Help end S. Korea's dog meat trade!
Sign the petition at StopDogMeat.com urging the S. Korean government to pass MP Pyo Chang-won's proposed amendment to the Animal Protection Act. If passed, MP Pyo's amendment will be a major blow to the country's dog meat trade.
Educate your friends and family about the issue and urge them to take action!
Click here to learn more about LCA's work to end Asia's dog meat trade.
Photo: LCA