LCA Blog
Blog for Last Chance for Animals, an international non-profit dedicated to ending animal cruelty and exploitation.
26th Horse Killed at Santa Anita Park Racetrack Since Dec 2018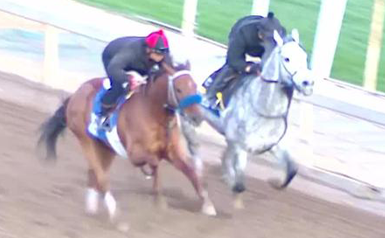 On Sunday, May 26th, 9-year-old gelding Kochees was euthanized after sustaining an injury during a race at Santa Anita Park the previous day — marking the 26th horse fatality (31 if you include off-track deaths) since the start of the season in December 2018.
In a press release, Senator Dianne Feinstein (D-Calif) once again called on the racetrack to be temporarily shut down, stating: "Another horse has died at Santa Anita Race Track, the 26th in five months and the third in just nine days. How many more horses must die before concrete steps are taken to address what is clearly an acute problem?"
In addition to calling for an immediate moratorium on horse racing at Santa Anita, Sen. Feinstein said a thorough investigation of the park's practices and track conditions needed to be held before races resumed.
"Tracks in the United States have significantly higher rates of death than tracks overseas. We need to determine what we're doing wrong in this country and fix it. If we can't we need to consider whether horseracing has a future here," Feinstein said.
Due to the recent spate of horse deaths, Santa Anita Park closed its tracks for most of March so authorities could determine if the racing surface and heavy rains played a part in the surge in horse fatalities. No problems were discovered and races resumed following the California Horse Racing Board's (CHRB) approval for new safety measures, including limits on the use of jockeys' whips and certain medications on race day.
Reforms like bans on whips simply cannot fix the systemic problems apparent in the horse racing industry. The fact remains, 201 horses have died at Santa Anita Park in the past five years. Since horse racing is effectly excluded from all anti-cruelty laws and individual states are tasked with regulating the "sport" through their own racing commissions like the CHRB — lax regulatory oversight is incredibly common.
Help end horse racing cruelty!
Click here to learn more about horse racing cruelty.
Stay Informed
When you subscribe to the blog, we will send you an e-mail when there are new updates on the site so you wouldn't miss them.