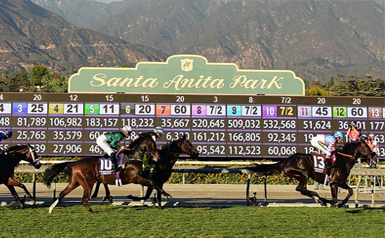 On Thursday, April 11, 2019, two California legislators — Sen. Bill Dodd (D-Napa) and Assemblymember Adam Gray (D-Merced) — announced plans for a joint oversight hearing on horse racing safety next month following the 23 disturbing horse deaths at Santa Anita Park racetrack in Southern California. The two lawmakers also announced the introduction of Senate Bill 469 — new legislation that, if passed, would give the California Horse Racing Board emergency authority to suspend racing if dangerous conditions exist.
The joint oversight hearing will feature expert testimony highlighting the steps the racing industry and regulators have taken to improve horse racing safety as well as identify key areas where more improvements are needed.
"This common sense bill is one part of the solution, and Chairman Gray and I will be convening a hearing to determine whether there are additional steps the industry or the state should take to enhance safety," said Sen. Dodd in a press release. "It's clear that state regulators need the power to act swiftly and decisively when exigent safety concerns arise."
"Both Sen. Dodd and I believe that California's horse racing industry must be willing to accept and adopt forward thinking solutions to address long-standing issues and debates," said Assemblymember Gray. "This hearing will give the committees an opportunity to conduct a thorough review of the industry's safety track record, and highlight new and potentially necessary reforms to improve safe racing conditions."
The duo's proposed bill SB 469, which is scheduled for its first committee hearing on April 23, "would allow racing board directors to convene an emergency meeting to consider temporary track closure when a situation emerges requiring prompt action," waiving the usual 10-day meeting notice. The board would still be required to announce the emergency meeting to the media and the general public.
The bill is also co-authored by Sen. Susan Rubio (D-Baldwin Park) and Assemblymember Ed Chau (D-Arcadia). "The unfortunate deaths of 23 horses in Santa Anita Park, which is located in my district, has been alarming and demands our most urgent attention," said Assemblymember Chau. "It brings to mind the question on why we are not suspending horse racing when emergency action is necessary. This legislation will empower the board to take action more swiftly in order to protect the welfare of both horses and riders, and is an important step in a series of ongoing reforms."
Click here to learn more about the brutal horse racing industry.