LCA Blog
Blog for Last Chance for Animals, an international non-profit dedicated to ending animal cruelty and exploitation.
Los Angeles Animal Services Commission Unanimously Votes in Favor of Rodeo Ban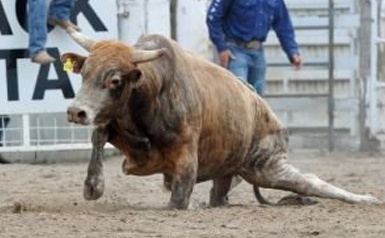 On Tuesday, March 12, the Board of Animal Services Commissioners unanimously approved a motion recommending Mayor Eric Garcetti and the LA City Council to prohibit rodeo events in Los Angeles.
---
Rodeo-type events like bull riding and calf roping routinely result in horrific injuries for the animals involved, including broken necks, broken limbs, torn ligaments, and even death. Due to the dangerous nature of this "sport", a growing number of California jurisdictions have already prohibited or restricted rodeos: Pasadena, Chino Hills, Laguna Woods, Irvine, San Francisco, and Napa County.
In February of this year, the Professional Bull Riders showcased their exhibition of animal cruelty at the Staples Center in Los Angeles for the first time ever — and LCA was there to protest!
The LA Animal Services Commission's motion will now go before the City Council and — if approved — an ordinance will be drafted, amending the Municipal Code to reflect the recommended changes.
TAKE ACTION:
SIGN THE PETITION: urge LA City Council to ban rodeos and rodeo-type events in the City of Los Angeles! (CLICK HERE to sign!)
IF YOU LIVE IN LOS ANGELES, CA: contact your council members by phone or email and urge them to prohibit the staging of rodeos and rodeo-type events in LA! (CLICK HERE to find your local council member by entering your address or intersection. CLICK HERE for a sample script.)
To learn more about rodeos and rodeo-type events like bull riding please visit www.StopBullRiding.com.
Stay Informed
When you subscribe to the blog, we will send you an e-mail when there are new updates on the site so you wouldn't miss them.